If you would like to leave a Google Review for Susan Marco, you can easily do so by doing the following:
First, click here to leave a Google Review for Susan Marco.
Next, you may have to log in (if you are not logged in).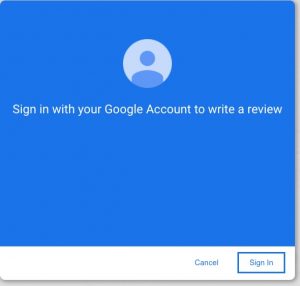 Once logged in, you can leave a review: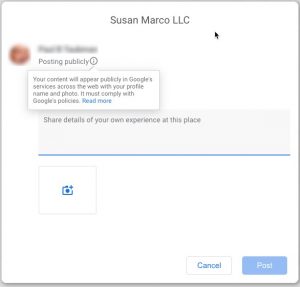 This box above should pop-up.
I would love it if you gave me 5-stars (but if you feel I did not deliver excellent service please contact me before leaving a review . . . I'd like a chance to make things right).
Now it's time to write your review. I've included some tips to help you write an amazing review below.
If you are comfortable doing so, please include a picture of yourself. Hit "POST" and you are done!
---
TIPS FOR WRITING AN AMAZING REVIEW
1) Use a powerful first line
Now, this may sound a bit cheesy but a great headline is really helpful. Statements such as the ones below are great (you can edit them of course to your personal preference).
"Amazing Experience Working with Susan"
"Would Recommend Susan Marco in a Heartbeat"
"Susan Helped Me with a Huge Breakthrough!"
"Highly Recommend Susan"
"Susan Marco Was Great to Work With"
Of course, feel free to write whatever you feel comfortable with . . . whatever comes from the heart.
2) For the testimonial itself, here's an easy way to put one together . . .
First, mention who you are and what your issue was that we worked on (if you feel it is ok to share this).
Second, share how you felt about the overall experience.
Third, talk about the one or two things that really stood out for you (it's best if this something personal about how you felt or something you didn't expect).
Finally, let everyone know if you would refer me to a friend or family member and why.
That's it. Thank you!